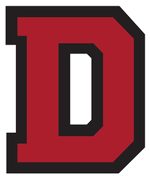 Message from the Dawson Community College President Scott R. Mickelsen, Ph.D.
On Wednesday, March 20, 2020 We had a good Board of Trustee call and COVID-19 update. The items discussed were:
   Online class platform.
   Accelerate some CTE classes.
   Title IV funding and impact to shortening the semester.
   Campus is open (i.e. dorms, food services, offices...).
   We currently have about 20 students on campus.
   NJCAA has cancelled their season, practicing and face to face recruiting.
   Deep cleaning around campus.
   Telework guidelines
The March Board of Trustee meeting has been moved to Monday, March 30. Please watch for call in information.
 Due to the issues and attention on COVID-19 the course schedule will be delayed by about one week. Please let individuals know that it should be up by Wednesday, March 25.
We have not made any decisions about graduation. At this time graduation is still on for Thursday, May 14 at 6 pm in the Toepke. 
A table has been placed in the main hallway that has supplies to be used to clean your offices. Employees are encouraged to take advantage of this and use the provided materials to get your offices disinfected.
We are asking students that are at home, if they can, to please remain at home during the spring semester and attend your online courses. If you are on campus, please do not travel or invite friends to campus. Please call us with any questions or concerns.
We have had 4 people quarantined that are employees at Dawson Community College. Three of which have had symptoms. All persons tested have been negative for COVID-19. If one becomes sick they should work directly with their supervisor, contact the County Health Nurse and remain at home for the 14-day quarantine period.
Online classes will be for the duration of the semester. We will not convert back to face to face for the spring 2020 semester. If you have items in the dorms they are ok until the May 15 move out date. If you need a little more time, please do not hesitate to contact Jon Langlois.
DCC has set up a Moodle Support Team to best serve our students in the following weeks. The team has already been identified. We want everyone to know so this can be shared with others. Here is some actions from the support team:
Our Online Specialist will be hosting two sessions Friday, March 20th at 10am and 11am in the boardroom to discuss everything the team needs to know with supporting materials (support team only). 
IT will be part of the team to ensure that we are sharing the same information, and also to ensure that everyone has the access they need.
Thanks for all you do and hard work and dedication to Dawson Community College!!