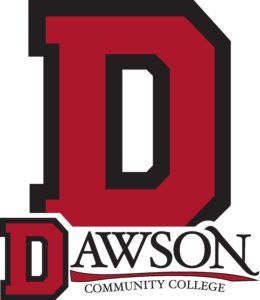 April is National Community College Month, a time set aside to celebrate the success of our nation's community colleges and to recognize these institutions for their unique contributions to the communities they serve. I would also like to take this time to thank all of the individuals, groups, and organizations who have supported and continue to support Dawson Community College.
Without the work and spirit of so many people, the successes that Dawson has had over the years would truly not be possible. This spring, Dawson exceeded enrollment goals, with the highest number of students enrolled in over five years. But Dawson is growing in more ways than enrollment. We are adding new programs, building and improving existing ones, and developing and maintaining relationships with high schools, workforce and industry leaders, and community partners to help us evaluate our services and determine how Dawson can best meet the needs of students, our community, and our region, now and in the future.
Our students – past, present, and future – are the heartbeat of our campus. They bring to our campus a focused level of energy and enthusiasm, and a dedication to bettering themselves and one another. One of our biggest points of pride at Dawson is our student-centered approach. We continuously look for ways to break down barriers so that anyone interested in learning has access to education and opportunity.
I commend the outstanding faculty and staff of Dawson Community College. Their dedicated service is intricately linked to the College's success. I appreciate their "students first" attitude and look forward to more successful years with this team.
The high school teachers, counselors, and administrators in Montana and elsewhere do an outstanding job of preparing their students for the future. I'm appreciative of the partnerships we've formed with high schools which allow us to work together for the benefit of these young men and women.
At Dawson, we pride ourselves in our involvement with the community, including our students' involvement. I'm thankful for the efforts our students make each day to be a part of Glendive and Dawson County. Likewise, I extend my thanks to the citizens of Glendive, Dawson County, and eastern Montana for not only welcoming our students, but for donating time and resources, cheering Buccaneer athletics, attending College-sponsored events, participating in classes and workshops, or telling a friend or family member about Dawson.
I thank the Board of Trustees of Dawson Community College – Chair Chad Knudson, Vice Chair Darla Handran, Cindy Larsen, Richard Rowe, Bob Stanhope, MaryAnn Vester, and Mike Wilondek – for their dedicated time and support of the College. It is greatly appreciated.
I appreciate the support of the Legislature, the Board of Regents, and the Office of the Commissioner of Higher Education, who've been very receptive to and enthusiastic of the ideas and initiatives Dawson has proposed.
It is an honor to serve Dawson Community College, Glendive, Dawson County, and the state of Montana in this capacity. With your continued support, I look forward to many years of success for Dawson, our students, and our state and community!
Sincerely,
Scott Mickelsen, Ph.D.
President