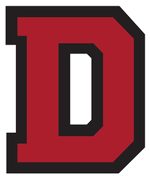 DAWSON COMMUNITY COLLEGE
300 COLLEGE DRIVE
GLENDIVE, MT  59330
Notice is hereby given that on the 14th day of May, 2020 at 10:00 a.m. Dawson Community College, Glendive, Montana, in the Dawson Community College Main Hall Board Room, 300 College Drive, will receive sealed bids for the purchase of:
40+ PASSENGER BUS with CARGO STORAGE
MODEL YEAR 2010 OR NEWER
LESS THAN 500,000 MILES
A detailed list of specifications may be obtained here or by contacting the Dawson Community College Business Office: 300 College Drive, Main Hall, (406) 377-9458.
Dawson Community College does not discriminate on the basis of disability in admission to, access to, or operation of its programs, services or activities.  Alternate accessible formats of this notice are available upon request from the above office.
BIDS WILL BE PRESENTED IN A SEALED ENVELOPE CONTAINING A COMPLETE COPY OF THE BID AND SPECIFICATIONS CLEARLY MARKED "COLLEGE BUS BID".  BIDDERS ARE WELCOME TO BID MORE THAN ONE VEHICLE.
Dawson Community College reserves the right to reject any or all bids, to waive irregularities, or to accept any bid they deem to be in the best interest of the College.
Dated this 9th day of April, 2020
Jennifer M. King
Director of Business Operations of Dawson Community College
PUBLISH DATES:
April 9, April 19, and May 7
For more information please view DCC Bus Specs document here: DCC Bus Specs