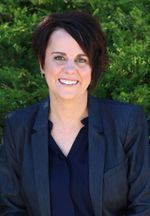 After a months-long search for the next leader of Dawson Community College, Chairman of the Board and Acting President Chad C. Knudson is pleased to announce that he recommends the appointment of Kathleen O'Leary as Interim President of DCC during the 2021-2022 academic year. 
O'Leary has over 30 years experience across various fields including workforce, higher education administration, public service and private industry.  She previously served as the Vice President of Administration for Dawson Community College from 2013-2017 and is currently serving as Deputy Commissioner of the Montana Department of Labor and Industry. 
"I've said since our last president left that I put more value in finding the right candidate for interim president than in filling the position quickly," Knudson said. "After three months, I am confident our patience has paid off and we have found the perfect candidate in Kathleen." 
Knudson added that O'Leary's institutional knowledge of DCC coupled with her skills and experience at institution building and executive leadership makes her an ideal leader to help build a solid future for DCC.
"Kathleen's commitment to DCC and our community has always been evident. Her work to balance financial reality with the student experience and ability to engage the community and industry partners will be well received," Knudson said. "The students, faculty, staff and administration at DCC will be in great hands with O'Leary at the helm."
O'Leary joined DCC administration in 2013 during another time of transition and worked to address finance, enrollment and accreditation challenges under three different presidents.  Most recently, in her role as Deputy Commissioner of the Montana Department of Labor and Industry, Kathleen has worked with the Governor's office, employers, professional associations, legislators and workers to address the multitude of workforce issues affecting the Montana economy.  Her work has allowed her to partner with the Office of Higher Education,  K-12 educators, labor unions, chambers of commerce and economic development entities across the state.   As Deputy Commissioner,  ten Division Administrators answered to Kathleen in areas including workforce development, unemployment insurance, professional licensing and employment relations.  MT DLI employs over 800 employees statewide.
"Dawson Community College is such a special place and the support it receives from the people of Glendive is amazing; it was always humbling to witness." Kathleen stated. "It is an honor to return to serve as interim president and I look forward to working with faculty, staff and administration as we address the needs of students and prepare the college for the future. "
An alumni of DCC with an associate of arts degree, Kathleen also hold a BS in Accounting from Dickinson State University and a masters degree in Conflict Resolution and Negotiation from Creighton University.   She has three grown daughters, Jessica, Toriana and Kendra.  Her first day on campus will be September 13.