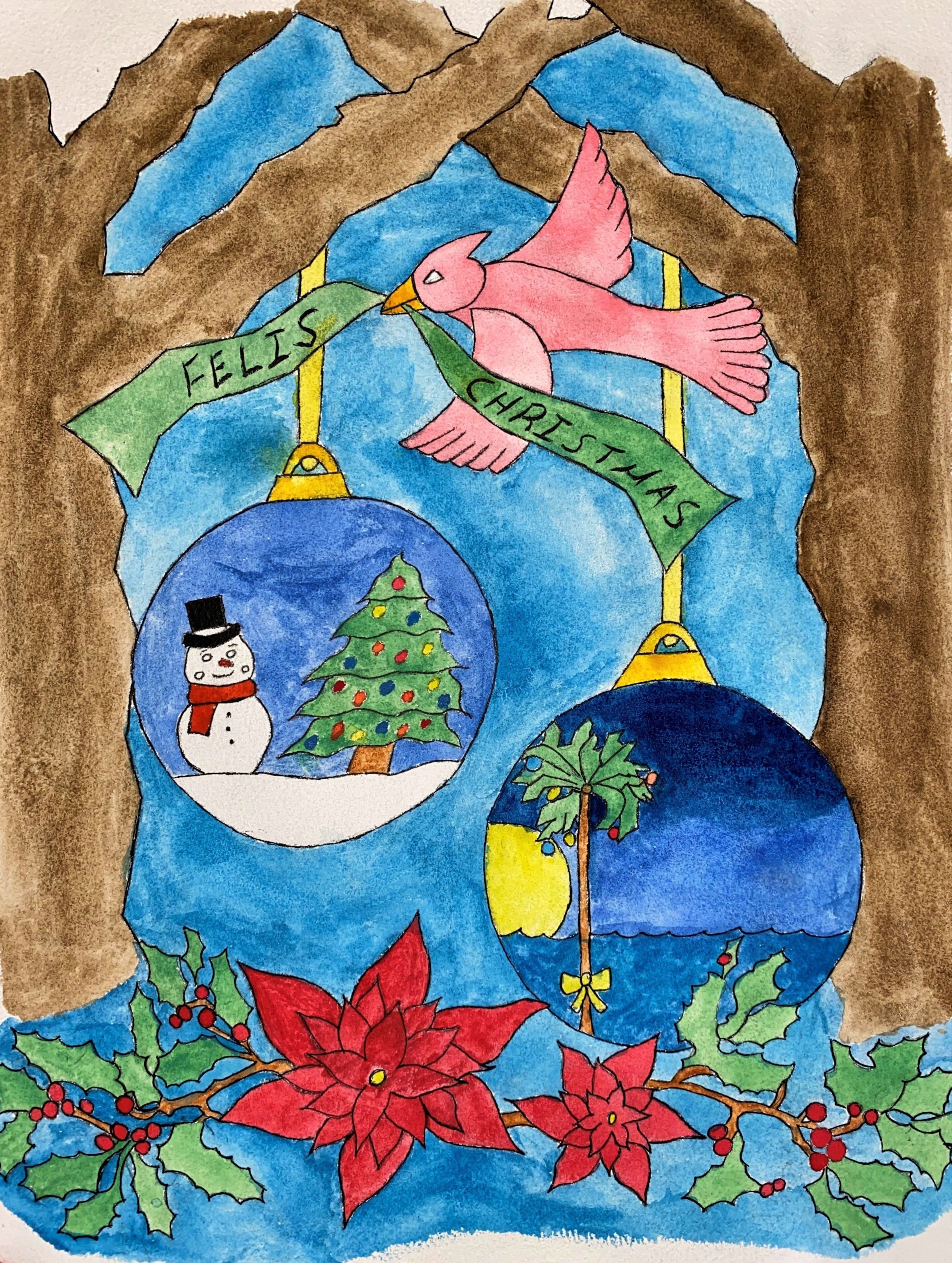 Dawson Community College and DCC Art Instructor Jennifer Wheeler are pleased to announce the winners of the 4th Annual Holiday Card Contest.
1st Place and President's Choice:

Alex Martinez, Global Ornaments

2nd Place:

Bee Strang, Christmas Bears

3rd Place:

Kaleigh Gillespie, Gingerbread Carousel

4th Place:

Madison Davis, Undersea Christmas
DCC art students were invited to design a holiday card and submit it for consideration in the Annual Holiday Card Contest. Interim President Kathleen O'Leary chose the grand prize, and the next three were selected by a campus-wide vote. Each of the four winning designs are turned into a greeting card and sold in a pack of four during the holiday season. All proceeds from the sale benefit the DCC Art Club.
This year's First Place and President's Choice winner, Alex Martinez, created his Holiday Card Art with Watercolor and Pen and Ink details on 100% Cotton Watercolor Paper. The original size was 13" x 17" and as is standard for illustrations, the work was reduced for a 5" x 7" card. Reducing (or shrinking) a work for reproduction tightens up the image and allows an artist to create detail in the actual size that would be hard to create at the reduced size. Martinez explored several ideas before he settled on his winning design.
The talent of the DCC art students impressed President O'Leary making her choice very difficult. "It was such a tough choice! There were so many great pieces; our students are so talented," said O'Leary. The special meaning displayed in Martinez's work really caught her eye. "In the end, I really admired the meaning behind Alex's work.  He's a long way from home and I appreciated the bridge between holiday traditions here and there. The piece just looks like the holidays, great color, great use of space. I'm honored to send it out as a representation of our students' work," she explains. "Kudos to DCC Art Instructor Jennifer Wheeler who has held this contest for multiple years.  It's a great way to expose our students and community to the artistic talents on our campus," continued O'Leary.
Alex Martinez is an Art Major from Puerto Rico. He came to Dawson Community College to play baseball and complete his art studies. "I come from a very large family of artists and athletes. It is thanks to them that I am here right now," said Martinez. The design of his winning card illustrates the importance of Christmas in both countries. "For the design of the card I wanted to connect a little Christmas in my country and Christmas in the United States. I wanted to show a little cultural difference, but in the end, the important thing in both countries is to celebrate Christmas."
For more information about the DCC Art Program, Annual Holiday Card Contest, or to purchase a pack of holiday cards, please contact Jennifer Wheeler at 406-377-9400 or jwheeler@dawson.edu.
###
Dawson Community College (DCC) fosters a culture of excellence in education, providing all students quality learning and opportunities for growth and partnership in local and global communities. DCC strives to become the standard of excellence for institutions of higher education.