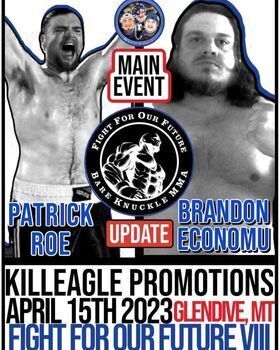 For Immediate Release
Contact: Wesley KillEagle Jr.
406-399-6580

MMA Event to Benefit Childhood Cancer Research and Treatment
By Merrick Parnell

Glendive, Montana – Professional boxing and Mixed Martial Arts (MMA) is coming to Glendive, Montana, for "Fight Four our Future VII" on April 15th at 6 PM. Killeagle Promotions will be putting on an exciting and electrifying night of MMA with a ten-fight card that will feature boxing and MMA, with the main event featuring a Pro 170-pound title fight between Dallas Davison and Daniel Augare and with the co-main event of Brandon Economu and Patrick Roe in a Heavyweight Boxing bout. The MMA event at Toepke Center will raise money for Seattle Children's Hospital's cancer research and treatment.
"We have a great lineup of Warriors willing to get into the cage to fight for something bigger than them, Childhood Cancer Awareness! They'll lay it all out there to fight for our babies!" said promoter Wesley KillEagle Jr.
Pre-sale tickets can be purchased in advance for $20 at Beer Jug, Wagon Wheel Bar, and Holiday Gas Station in Glendive. The presale ends next Friday after the weigh-ins and will then be available at the door for $25 the night of the event. Fans can call or text 406-399-6580.