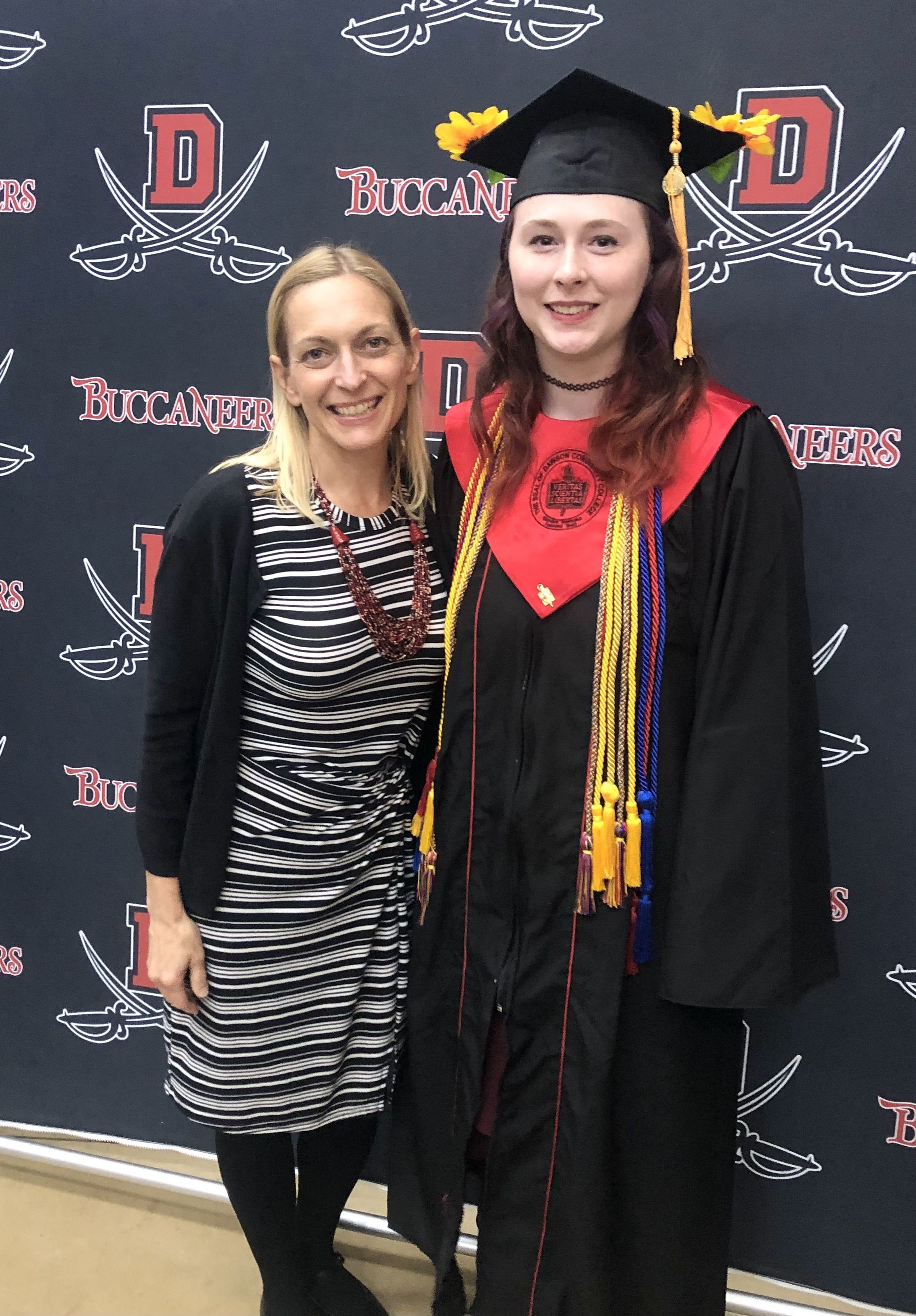 GLENDIVE, MT – Dawson Community College (DCC) is excited to announce that their second cohort of Dawson Promise students have successfully completed the program. The Dawson Promise program is grant and donor-funded and it is aimed at helping youth who have aged out of the foster care system, are experiencing homelessness, or who are otherwise "unaccompanied" be able to obtain a two-year education free of debt. The DCC staff work closely with each individual to assist them with the resources they need to complete their college education and set them up for success in life.
For youth who were formerly in foster care, less than 6% successfully obtain a two-year degree. Dawson Promise exists to improve these statistics in Montana. There are currently seven Dawson Promise students taking summer classes at DCC. An additional six new students are slated to start in the fall semester.
A previous Victor High School student, Kaitlyn Deering, graduated from DCC with high honors and an Associate of Arts degree. During her time at DCC, she was very active in the art program and her painting was chosen for first place in the DCC Holiday Card Art Contest. Deering was also very active with the Associated Student Body (ASB), serving as part of the Senate and held the position of Secretary this past school year. She also balanced working part-time during her entire 2 years at DCC. Deering aspires to get into graphic design and be able to work remotely from the countryside of her homeland in Western Montana.
Reflecting on her experience at DCC, Deering had this to say, "I'm glad for help I got from Dawson Promise and the people within it. Even on rough days, I knew I had the support to help: whether it was figuring out solutions, talking honestly with me about my situation, or offering help with what I needed. It was truly valuable to me as both a student and a person."
Another Dawson Promise participant was an alumni of Skyview High School in Billings, MT, and came to DCC to run cross-country and track. During his time at DCC, he not only balanced the high demands of a student athlete, but worked part-time at a local restaurant. He will continue his education at Rocky Mountain College in Billings, MT this fall where his full tuition, fees, food and accommodation will be covered through various athletic, academic and need-based scholarships.
A third Dawson Promise student, originally from Dodson, MT, graduated with an Associate of Applied Science in Welding. After aging out of foster care, he desired to get his Associate of Applied Science degree to make a better future for himself and be a positive example to his younger brothers and sisters. He stated, "Thank you so much for everything. I appreciate more than you know."
Dawson Promise's fourth 2023 graduate was Zlata Godunova who is a native of Ukraine. Godunova attended Dawson County High School in 2021-2022 as an exchange student. Sadly, during her time in the United States, Russia invaded Ukraine and the conflict exploded into the present-day war. She found herself unable to return to her home country and essentially "homeless" as a refugee in Glendive, Montana. Godunova is no stranger to working hard toward her goals and so quickly changed course by starting her post-secondary education at DCC. The Dawson Promise program was not at full capacity this past year and was able to invite Godunova into the program. She was very active in the art and music programs at DCC, was a DCC cheerleader, held the position of Vice President for Student Government, and worked part-time. Godunova graduated with high honors and as a member of the Phi Theta Kappa Honor Society. She will continue her education at Hunter College in New York City where she will study theatre as she works toward her dream of working in the film industry.
Daneen Peterson, Advisor and Grant Navigator for Dawson Promise, said "It's a joy to see these students graduate. This is no small feat for any student, let alone these individuals who've overcome huge obstacles to reach this milestone. They each have so much to be proud of for what they've accomplished."
If you have questions about the Dawson Promise program or would like to contribute to this grant and donor-funded program, please contact Daneen Peterson at 406.377.3061 or dpeterson@dawson.edu.