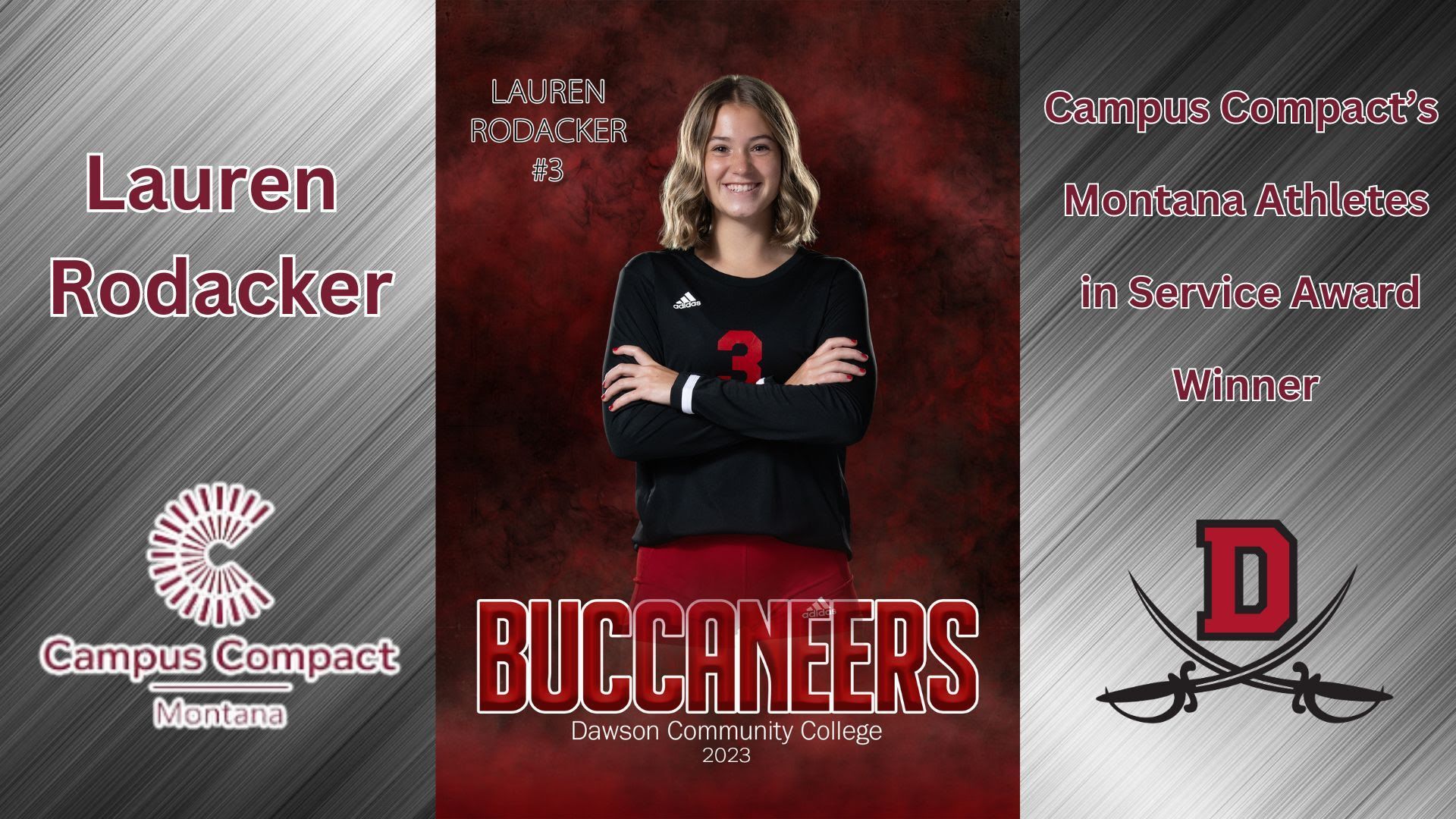 Always ready to help anyone and serve anywhere, Lauren Rodacker has been selected as Dawson Community College's recipient of the Montana Athletes in Service Award through Campus Compact. Lauren is from Billings, MT and is currently a sophomore at Dawson where she plays volleyball and runs track. She will represent DCC at a ceremony that will take place on November 18th at the Brawl of the Wild football game in Missoula between the University of Montana and Montana State University.
Lauren has been very active with community service endeavors on campus and in the surrounding Glendive area. Last year, she totaled over 60 hours of community service on top of earning a 4.0 GPA. As part of Lauren's on campus service, she has been a resident assistant (RA) for the past two years, is a student ambassador, helped put together the program book for the District 2C volleyball tournament in 2022 and 2023, and volunteered to help at a DCC fundraising event, called the Buccaneer Bash, by setting up, running the games, and cleaning up afterward. Lauren is known to be the first to sign up for community service projects.
As per of her off campus service in the community, Lauren volunteered at the Makoshika Arts Festival and a mentorship program at Washington Middle School where she rarely missed a week to go visit her mentee. She has also helped move many people in need into their homes over the past couple of years.
Just like she does in her school work and her athletic work, Lauren takes great pride in her service to others. She will always give 100% effort in everything she is doing. When other students are struggling with a class, Lauren will drop whatever she is working on to help them. The best quality of Lauren is her passion for life. She performs these acts of service with a joyful heart, a kind spirit, and helps to brighten the mood in whatever room she enters. Lauren is very deserving of this recognition and honor.
The Montana Athletes in Service Award has three specific goals:
1. Honor civically engaged student-athletes from MTCC campuses for their commitment and engagement in community service.
2. Raise awareness for civic engagement programs at MTCC member campuses.
3. Highlight student-athletes as role models to encourage more civic engagement activities throughout Montana.
For 30 years, Montana Campus Compact and its affiliate campuses have supported students, faculty and communities across Montana with programs that encourage and recognize community service. Montana Campus Compact and the State of Montana are proud to honor athletes whose extensive volunteer efforts have been of great benefit to their communities.
"College students in Montana do amazing community work, and their investment of time, talent and energy help improve our communities across the state. Campus Compact's Montana Athletes in Service Award honors the contributions of student athlete-volunteers." said Josh Vanek, of MTCC.